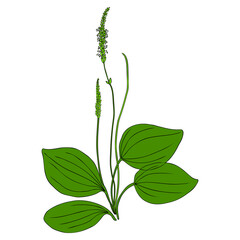 Pôsobí na: funkciu čriev, zlepšenie citlivosti buniek na inzulín, správne fungovanie obehovej sústavy
Psyllium (zvyčajne v podobe šupiek alebo prášku) je vlákno pochádzajúce z rastliny
skorocel indický (Plantago psyllium), ktoré je schopné viazať mastné kyseliny a cholesterol zo stravy. Môže zvýšiť vlhkosť a hmotnosť stolice.
AKA
Metamucil (názov predajnej značky), ispaghula, plantago psyllium, plantago ovata, plantago, skorocel indický
Zhrnutie
Názov "Psyllium" sa bežne používa na označenie vlákien získaných z rastliny známej ako Plantago ovata (Skorocel vajcovitý, s. indický); jeho vláknina sa vyznačuje tým, že je vo vode rozpustná (hydrofilná) a vytvára gél, pričom má nízku fermentovateľnosť. Je všeobecne známy pod značkou Metamucil.
Psyllium sa klinicky používa ako objemové laxatívum; činidlo, ktoré má v dôsledku zvyšovania objemu výkalov laxatívne účinky. V porovnaní s chemickými látkami, ako je kofeín alebo senna alexandrina je psyllium  jemnejšie preháňadlo. K zväčšeniu objemu stolice dochádza v dôsledku absorpcie vody a plynu v tenkom a hrubom čreve, čím trávenina (vzniknutá zo spracovávanej potravy) nadobúda väčší objem a mäkkosť. Tento objem sa zdržiava v hrubom čreve aj napriek mikroflóre, pretože psyllium je slabo fermentovateľné (vysoko fermentovateľná vláknina môže byť metabolizovaná baktériami v hrubom čreve a stráca schopnosť zadržiavať vodu a udržať svoj objem). Je dokázané, že psyllium zvyšuje veľkosť a vlhkosť výkalov a vytvára mäkkú, hladkú a ľahko priechodnú stolicu. V porovnaní s inými zdrojmi vlákniny sa psyllium javí ako účinnejšie pri tvorbe výkalov a zdá sa, že je jedným z mála zdrojov vlákniny, ktoré nesúvisia s nadmernou plynatosťou.
Okrem fekálnych vlastností sa ukazuje, že psyllium je schopné znížiť celkový cholesterol a LDL cholesterol u osôb s vysokým cholesterolom a tiež dochádza k miernemu zníženiu  HDL. Toto je spoločné pre všetky typy vlákniny a nie je to jedinečné pre psyllium.
S užívaním psyllia sú spojené niektoré vlastnosti súvisiace so znížením glukózy, čo môže byť prospešné pre diabetikov. Zníženie glukózy nie je príliš účinné, ale je spoľahlivé, pokiaľ sa psyllium užíva; zastavenie užívania psyllia je spojené so zvýšením hladiny glukózy, čo je spoločné pre všetky rozpustné potravinové vlákniny.
Keď sa psyllium užíva vo vysokých dávkach, môže mierne znížiť chuť do jedla, ale nezdá sa, že by táto jeho schopnosť bola veľmi účinná alebo spoľahlivá. Dlhodobé výskumy používajúce psyllium v ​​dávkach na reguláciu výkalov nepreukázali, že by psyllium pôsobilo na zníženie hmotnosti, čo naznačuje, že to nie je dobrý spôsob regulácie hmotnosti.
Ako užívať
Dolná hranica dávkovania je 5 g denne spolu s jedlom a nejakou tekutinou (aspoň 200 ml vody). Ak je to potrebné môže sa užívať pri každom jedle. Užívanie spolu s jedlom nie je povinné ale psyllium je vždy potrebné užívať spolu s dostatkom tekutín. Akútne dávky do 30 g sú dobre tolerované za predpokladu, že sa spolu s nimi prijíma aj dostatok vody (v tomto prípade aspoň 500 ml). Pri použití psyllia na tvorbu stolice je dobrým východiskovým bodom denná dávka 15 g (dávka 5 g trikrát denne) a potom sa dávka môže upravovať nahor alebo nadol v závislosti od jeho účinkov na tvorbu stolice.
Upozornenie
Psyllium by sa malo okamžite zapiť vodou, pretože vloženie suchého prášku alebo šupiek psyllia do úst bez vody môže mať za následok vysatie a vysušenie slín s následným udusením.
Psyllium je možné kúpiť ako šupky alebo prášok. Z hľadiska zdravotných účinkov nie je medzi týmito formami žiadny významný rozdiel.  
Literatúra
alergia antioxidanty ashwagandha autoimunita bacopa bezlepková diéta bolesť bylinky celiakia COVID-19 Crohnova choroba cvičenie deti dezinfekcia fajčenie flavonoidy ginko IBD infekčné choroby karnitín karotenoidy ketogénna diéta koenzým Q10 kofeín kosti kurkumín kĺby meta-analýza mozog mužské zdravie obezita omega-3 pamäť poznávacie funkcie probiotiká psoriáza selén stredomorská diéta terpény vitamín A vitamín C vitamín D vitamín E zelený čaj ženské zdravie