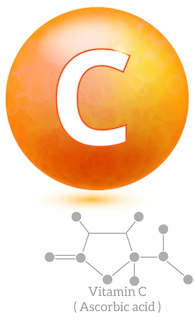 Vitamín C je esenciálny vitamín s antioxidačnými vlastnosťami. Často sa užíva na odvrátenie bežného prechladnutia, hoci jeho účinnosť je otázna a pravdepodobne nízka.
AKA
kyselina askorbová, askorbát, 2-oxo-L-threo-hexono-1, 4-laktón-2, 3-enediol, kyselina L-askorbová
Zhrnutie
Vitamín C alebo kyselina L-askorbová je esenciálny vitamín rozpustný vo vode. Vďaka svojim antioxidačným vlastnostiam, bezpečnosti a nízkej cene je to veľmi obľúbený doplnok stravy.
Vitamín C sa často užíva na zmiernenie príznakov bežného prechladnutia.
Vitamín C však nedokáže znížiť frekvenciu prechladnutí u zdravej populácie. Športovci, ktorí často podstupujú intenzívnu fyzickú aktivitu môžu očakávať, že sa u nich riziko prechladnutia zníži na polovicu. Ak sa vitamínu C užíva ako každodenná prevencia, alebo na začiatku prechladnutia, tak u bežnej populácie skráti trvanie prechladnutia o 8-14 %. Aj keď sa hovorí, že megadávky vitamínu C (5-10 g denne) sú účinnejšie, pravdivosť tohto tvrdenia je potrebné overiť ďalším výskumom.
Vitamín C môže pôsobiť ako antioxidant aj prooxidant, v závislosti od toho, čo telo potrebuje. Tento mechanizmus mu umožňuje vykonávať v tele rôzne funkcie.
Vitamín C v tele pohlcuje voľné radikály. Dopĺňajú ho antioxidačné enzýmy a často sa používa ako referenčný liek pri výskume antioxidantov. Štruktúra vitamínu C umožňuje jeho neurologické pôsobenie (na depresiu), ako aj interakciu s pankreasom a moduláciu kortizolu. Jeho antioxidačné vlastnosti znamenajú, že vitamín C poskytuje neuroprotektívne účinky a zlepšuje prietok krvi. Tým, že vitamín C chráni semenníky pred oxidačným stresom, môže tiež zachovávať hladinu testosterónu.
Ako užívať
Odporúčaný denný príjem vitamínu C je 100-200 mg. To sa dá ľahko dosiahnuť prostredníctvom stravy, takže suplementácia takých nízkych dávok je zvyčajne zbytočná. Vyššie dávky vitamínu C (až 2 000 mg) sa používajú na podporu imunitného systému (u športovcov) alebo skrátenie doby prechladnutia.
Väčšina výskumov vitamínu C predpisuje jednu dávku denne. Tvrdenie, že užívanie 2 000 mg až 5x denne na optimálne zníženie príznakov nachladnutia nie je dostatočne testované a vyžaduje si viac dôkazov.
Upozornenie
V prípadových štúdiách sa opakovane preukázalo, že nadmerné množstvo vitamínu C, najmä prostredníctvom intravenóznych injekcií, spôsobuje oxalátovú nefrotoxicitu (tvorbu obličkových kameňov; potenciálne smrteľné, ak sa nelieči). Preto by ste sa mali vyhnúť injekciám vitamínu C, ak nie sú podávané pod dohľadom lekára.
Nadbytok vitamínu C v tele spôsobený jeho megadávkami môže zapríčiniť, že vitamín C nebude pôsobiť ako antioxidant ale začne v tele pôsobiť opačne, teda ako prooxidant.
Literatúra
alergia antioxidanty ashwagandha autoimunita bacopa bezlepková diéta bolesť bylinky celiakia COVID-19 Crohnova choroba cvičenie deti dezinfekcia fajčenie flavonoidy ginko IBD infekčné choroby karnitín karotenoidy ketogénna diéta koenzým Q10 kofeín kosti kurkumín kĺby meta-analýza mozog mužské zdravie obezita omega-3 pamäť poznávacie funkcie probiotiká psoriáza selén stredomorská diéta terpény vitamín A vitamín C vitamín D vitamín E zelený čaj ženské zdravie